I love Halloween. I just think that it is so fun! I love the candy, the dressing up, and the passing out of candy to little kids who are dressed up! :) This year my boss said that we were allowed to dress up for Halloween as well. I was so excited!
I am going to share with you my work appropriate Halloween costume: a lumberjill/lumberjack (lol!)!
It was super simple and super comfy. I wore ripped jeans (came not ripped but I have worn them out after 6 years of use...Hollister), a white tee (JCrew), a plaid flannel (A&F), and leather moccasins (Minnetoka for JCrew). I also wore a braided leather belt and homemade "suspenders." I made a cardboard hatchet to top off the look.
That thing I am holding is my non-colored hatchet. :)
I love making faces at my sweetie. :)
Check out how I attached the suspenders together in the back.
** The moccasins were seriously the deal of the century. They are listed
here
for $168. Well, there is a JCrew warehouse near me that does huge warehouse sales on their goods about once a month. To make a long story short, I paid $7 (that's right, $7!!) for an amazing, brand new pair!!!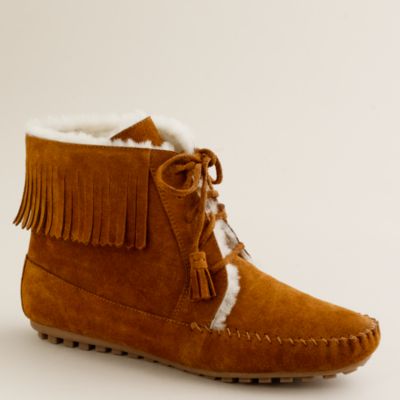 The stock photo from JCrew
I was also excited about my cheesy suspenders. I made them from the material of two old t-shirts. I use the method
here
to teach myself the 5-strand braid. Turned out pretty well for my first time! I will definitely use this method again.
Did you dress up for Halloween? What were you? :)